My life journey is a constant thread on here.
Mainly because this is my blog and I know me better than anyone else so I talk about me.
But only so I can share, to empathise, encourage and empower.
As most of you know I love words and the word journey is getting a bit stale to me so today I am going to talk about my peregrination, as it has been rather a long meander getting to where I am now.
This rumination today is about body image.
From my observations most women – and maybe men, but I'm not qualified to talk for the opposing sex – have body issues.
I have certainly not been exempt.
I had a fairly tidy figure when I got married at 21 – 173cm tall and weighed in at 66kg.
But from young I had issues with certain parts of my anatomy which looking back seem really stupid now, but……
….sadly I was not alone.
The abuse and headfucking I went through in my childhood certainly didn't help matters and unfortunately I know I am definitely not alone in that area.
These occurrences alter our appreciation of self immeasurably.
My weight and shape has changed dramatically throughout my life.
You cannot go through 11 pregnancies & births, breast feed 10 babies and suffer multiple accidents to many parts of the anatomy over the years  without some significant body carnage.
Living on 60' slopes for 36 years was a reason (I know, not a good reason, but a reason nonetheless!)  for me to not go walking much due to damaged knees.
I tried in latter times by purchasing a tredmill.
It got used and I did try all sorts of other means/diets etc to try & keep in shape but it was a very ebb & flow thing depending on my moods and events of the times.
Anyway, fast forward to 2013.
That fateful month of February when my life was traumatically turned upside down & inside out.
My reaction was to retreat to my bed, eat comfort foods and watch brainless movies for months.
Assuaging grief in the most consoling way I could.
And that was okay for then.
From there was the period of running away with my two babes.
Tramping boots were bought and some moderate walks undertaken during our travels.
Then two years ago we moved to the city.
The moving process once again added more damage to my back, hips & shoulders so ongoing physio was required.
But I was making baby steps.
We bought bikes.
I biked for several months until we got the puppy.
Then I began walking him around the streets.
It was really enjoyable to wander the river and explore the city.
Slowly I was increasing my exercise time.
Unfortunately a couple more severe accidents slowed me down with injuries and long term recovery periods.
At the same time I was also dealing with some very hard stuff.
My ptsd levels were often going through the roof.
My headspace wasn't wonderful.
In fact early-mid 2016 was probably the darkest, heaviest space I had been in since Tim died.
I received test results from the Dr saying I was pre diabetic.
They wanted me to join in with Green Prescription and go to aquafit classes and discussion groups to help me loose weight etc.
In essence it was probably all very good and helpful BUT I was very definitely NOT in the right headspace to so anything extra so basically told them to fuck off!
Then finally after 40 months of very intense grieving, my brain finally began to clear.
Lucidity began.
I set about making some much needed rational decisions.
Once that was underway I began to want to look more aggressively at my health & wellbeing.
I took ownership and control.
I reduced my intake of sugars and carbs – I know from experience that they are the worst enemies for my body type.
I joined the gym and with encouragement from my daughter that it would take me at least 2 weeks of determination to make it a habit I stuck with it.
The trainer set me a routine which I worked hard at.
I was juggling my youngest kids needs which at the time were pretty intense, but was trying really hard to put mine up there on the top of the list too.
I roll out of bed around 6am at least 4-5 mornings a week because I know for me that if I do not get there and do my work out and pump the cardio before 7am it is just not going to happen.
And now I really, really love going.
My trainer reworks my programme every month or so too help me strengthen and tone up this battered body of mine.
I can vouch for all those proven studies that exercise produces endorphins which really do reduce stress, increase happiness & energy levels, ward off anxiety and depression, improve sleep and boosts self esteem.
But! I had to be in the right headspace to even contemplate attacking it.
If I had tried earlier I can honestly say I would've failed.
I had to be ready to bite the bullet with a sense of determination.
Around this time I became aware of the Isagenix products.
I had been very skeptical at first but after a while I discovered my daughter Sunniva was already using them so discussed it with her.
Her response was that she had no idea how they worked but that they did work and the she has far more energy than ever before.
So I decided to give them a go.
Not just for me but also for my 16 year old daughter who also needs a lot of energy for her rowing.
She & I took the products to a well known naturopath here and had them checked out and she said they were all good and that it was the amino acids that were doing the job.
So on that recommendation we joined up and began to use them.
I love using the products.
I tweak as I want.
I particularly love the shakes and cleanses.
I am not religious about them, I use to suit me and my lifestyle.
Since I began going to the gym and using the Isagenix the weight has been falling off me.
I honestly do not count calories or do anything that is mind controlling.
In amongst all of this there have been several interesting influences regarding the body image issues.
I came across the Australian blogger Constance Hall.
And, as have many women have, found her approach to be incredibly liberating.
She's raw and open and honest and completely out there.
And I absolutely love that.
I was thrilled to have the opportunity to meet her when in Perth a few months ago.
Another Australian,  Taryn Brumfitt, began the Body Image Movement with her docs/movie Embrace.
This movie is absolutely brilliant and should be seen by all.
These women along with many others have been such an encouragement.
While in Perth I went shipping with my niece.
It was so much fun.
I bought myself a new swimsuit.
We walked into the shop and I announced 'I don't do black'.
Sam followed me in saying 'And she don't do Nana either!' 🙂
But after trying almost every colourful swimsuit in the shop we then turned to the black ones.
And guess what.
They worked.
And I found this one 🙂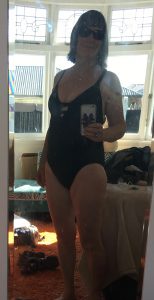 Then I said – 'right, now I have that sorted. Let me see some bikinis'!!
The absolute best thing about shopping with the niece as opposed to the daughters was the encouragement 🙂
I have not worn a bikini since I was in my teens!~!
And to even consider doing so was a huge step.
But after over 5 decades of hating on my body I decided it is now time to love it instead.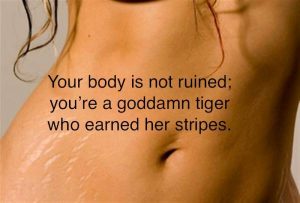 Scars are the tattoos of the brave according to my son.
This body of mine has more than earned its stripes, its scars and its tattoos.
It's bravery deserves to be honoured.
Yes, I have lost weight but that is not the issue here.
The issue is loving yourself.
Recognising that this body is not an ornament – it is a vehicle.
It has strength and purpose.
So even after Tim died when my weight skyrocketed up to 83 kgs plus it was still a purposeful vehicle.
I just didn't appreciate its worth.
During all my child birthing years when I would moan about not fitting my clothes Tim would just tell me to go buy a bigger pair of jeans.
He saw me as the women he loved no matter my size.
He didn't care, he loved me for who I was.
It was a tragedy that I didn't see that.
I don't really see a huge change but friends have been commenting.
Here are some photos taken 3 months apart.
Remember that there is no way on this planet that I would've posted any photos like this before!
Huge steps forward in acceptance of self 🙂
3 September = 80.4kgs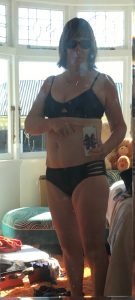 11 December = 74.4kgs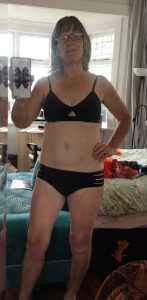 I don't need the scales, I know by my clothes that my body is changing shape.
I have just dumped a pile of size 14 jeans etc out of my wardrobe.
Went shopping cuz they were a tad loose and came out in size 11's.
That really blew my brain!
Then a month later I went back to buy a belt because they were loose.
But what is super cool is that it is not the weight loss that matters to me.
It is the feeling of being well, and happy and feeling my body becoming  toned and stronger.
And knowing that the physical events that I want to tackle are becoming manageable.
My therapist commented to me recently that she was glad to see I had my spark back.
I thought on that and responded that actually, I do not ever recall having 'a spark' like this before.
I have so much exuberant energy that I feel like the Energiser bunny on full batteries!!
Even when the batteries run down a tad I am still in a really happy place.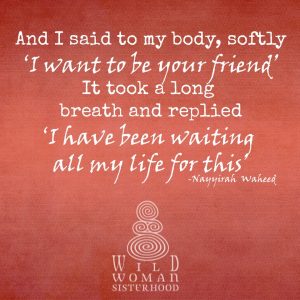 My body and I are finally friends who are pretty damned proud to be seen together in public 🙂
Christmas Day at Cable Bay 2016