I was scrolling through my Facebook feed this morning and read a quote that a friend shared.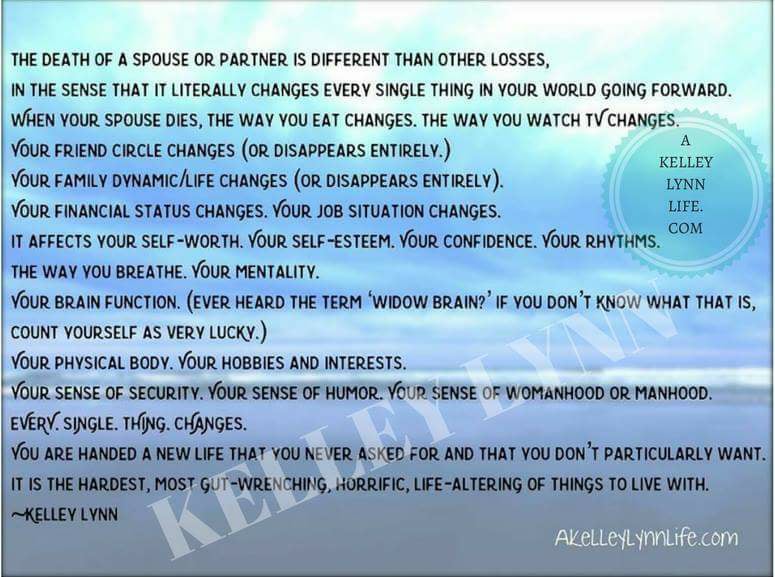 It really spoke to me so I followed links in the comments and found the original quote above, and read her blog post in its entirety.
By the time I got to the end tears were falling down my cheeks as I identified  with, and was touched by every single word she wrote.
I want to give due credit to Kelly here because this quote is out there in cyberspace as anonymous.
It is most definitely the writings of a very talented and thoughtful woman who has walked the grief journey.
Definitely well worth taking time to read it to the end!
'I will never move on'  by writer, comedian, actor & performer  Kelly Lynn

Most people who have been following my blogs for the past few years will know my journey has been a very tangled one to say the least.
It has in fact been far, far more tangled at times than I have been able to write publicly about.
But I have learnt over these years that grief knows no boundaries and should never be timeframed.
As Kelly says here –
"I will never move on from my husband. I will never NOT love my husband who died. I will never leave him in my past, like some forgotten old shoe I never threw away. This applies forever. Even if I should fall in love again. Even if I should marry again. Even if I should live every dream that I have ever dreamed possible. Even when I am old and gray and ancient, should I have the honor of being allowed to live that long. Even then. I will NEVER not be connected to my husband. He lives within me now. Whatever I do, wherever I go, I carry him with me. He is a piece of my very soul. There is no moving on."

Tim was my best friend and lover for 42 years and my husband for over 34 years.
The vast majority of my life has been intertwined with him.
It cannot be discounted nor forgotten ever.
We shared 11 babies together.
Each of our 10 living children contain his genes, his dna, his love, his life.
Each of them and our grand babies all carry him on into the future.
He can & will never be forgotten ever
There are just way too many memories we all share
There is no moving on.
Only moving forward.
To read Kelly's blog and hear so much validation in one post is overwhelming to say the least.
I absolutely love her last paragraph which she has written with such positivity that I am not going to rephrase it in anyway.
It is inspirational and motivational and has lit a flame in my heart that I had been burying.
"Here is what I WILL do:
I will live the biggest and brightest and most colorful life that I can, because my husband does not have that choice. I will cling to every new joy that I feel in this life, because I am still alive to feel it. I will honor the life and the love that my husband and I shared, by being the person that he fell in love with. I will always find ways to keep remembering him and sharing his story with the world, because that is my duty and my HONOR to do as his wife, and his widow; and because sharing their story is how we keep them alive and relevant. I will continue to grow and to learn and to hurt and to feel and to fear and to fly. I will scream when I need to, cry when I have to, and laugh as much as my body can handle. I will tell all the people that I love, that I truly love them, and I will make sure they know this as often as possible. I will leave behind something of importance in this life, something of value, that someone , someday, can read or look at or see or feel, and it will make them think in a different way. I will love harder than I have ever loved before, and I wont feel guilty for loving again, because I will know in my heart that my husband's love is inside every love I have going forward. I will choose to believe that he is somehow still here with me, and I wont question or doubt all the many times that I feel him. I will embrace his energy inside the music, and I will dance to the rhythms of our forever connected hearts. I will speak his name whenever I want to, and I will do this proudly, because that is what he deserves. That is what we ALL deserve – to not be forgotten, and to be spoken of with laughter and joy and remembrance, by those that will always love us. I will move INTO my future, step into my life, and I will carry him with me at every turn. I will take risks, and be afraid to fail, but go for it anyway, because I know that in the end, none of us get out alive. I will know that life is terrifying and chaotic and unfair and filled with sorrow and pain, but also exhilarating and wonderful and surprising and incredible, and a beautiful gift that keeps unwrapping, each and every time I make the decision to get out of bed. I will promise to do all of these things and more, and if I'm very lucky, maybe I can even change the world.
And I will never, ever move on."
I have been frightened that his shadow would be daunting to new love.
I have been protecting him and myself
I just want to thank Kelly from the bottom of my heart for helping me to see and understand that I can move forward without moving on.
There is no comparison
Tim is/was Tim
And I am who I am because of the life we spent together, and the person he was helped to shape me into the person I am today.
I cannot live in the past
I cannot worry about tomorrow
I choose to embrace today
Because today is good
very good
I will honour his life by living mine in the brightest most colourful way I can
I will move forward
But I will never move on…