I had inside information because I had been pumping Jesika for several months.
I knew that unbeknownst to Evan she was taking Friday off work to pick up his best friend from the airport and to prepare for his party.
So Jacqui and I rocked up at the house early arvo to surprise Jesika only to find the place all locked up.
I unloaded and waited around the back, thinking they wouldn't be long.
After about half an hour I messaged her asking how the party plans were going and I received this photo.
She and Bud were out lunching!
Great ;-/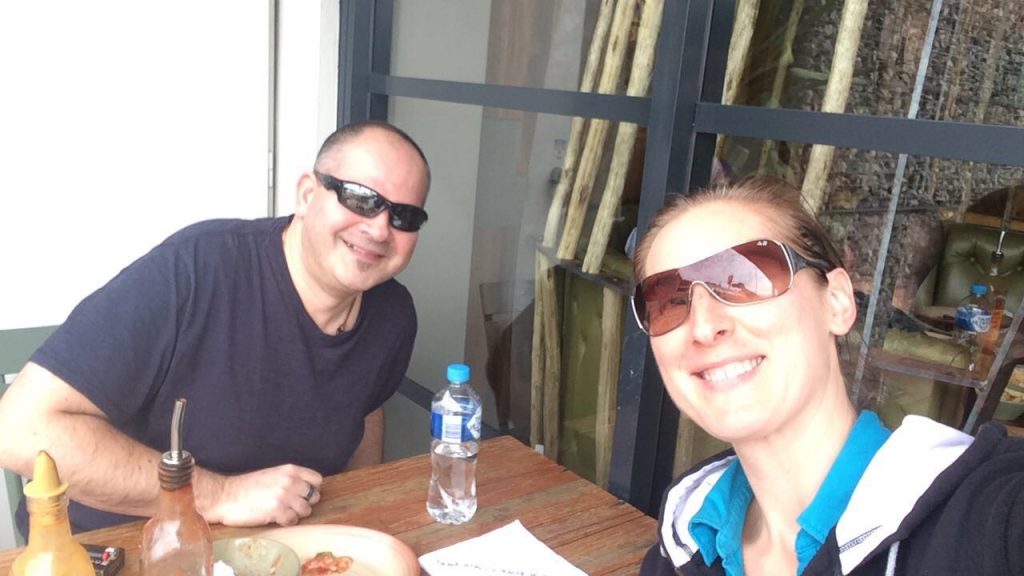 Soon after Evan arrived and on hearing me knocking on the back door got the surprise of his life to find his favourite mother-in-law on the step.
We had a cuppa and a catch up, then he told me that Jesika was on her way home from work.
Mmmm, I agreed, knowing the other side of the secret 😉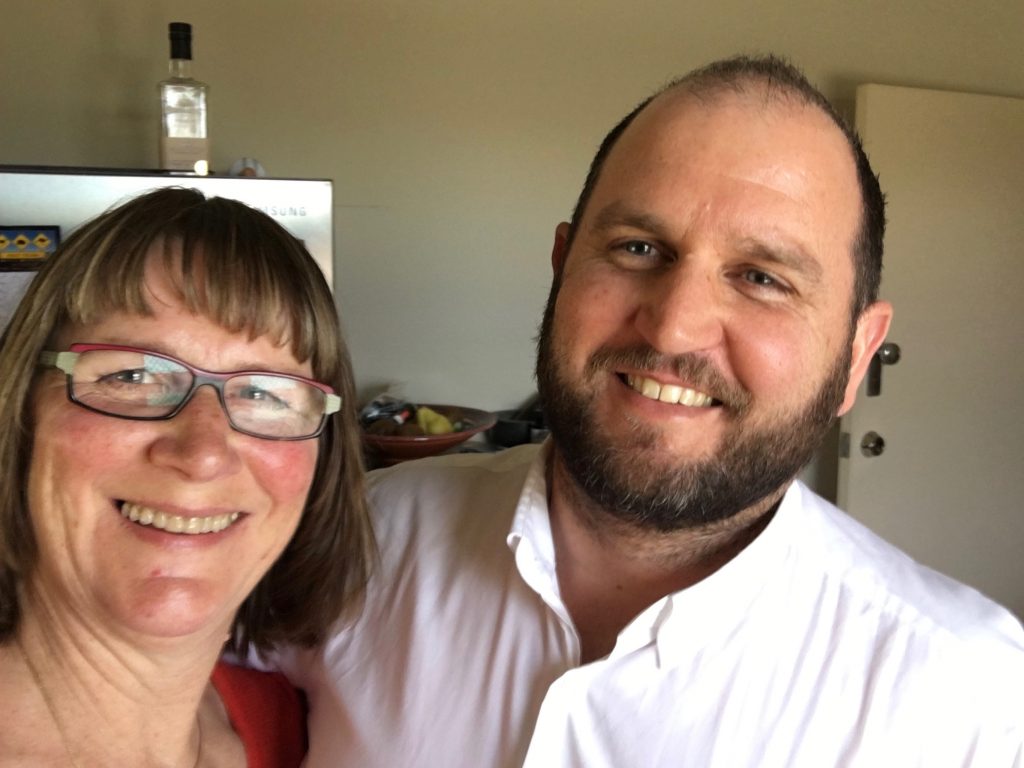 She messaged him saying she was going straight to Sam's to do party prep  & for him to come there, to which he responded 'Come home now! The marquee has been put in the wrong place and I am not happy about it'!
Unbeknownst to us his caused a major meltdown at the other end 🙁
So we hopped in his car and drove round to Sam's and on the way passed Sam heading our way.
Ev commented to me that there was a guy in the passengers seat and that it was 'probably her other husband', as he refers to her best mate Blair as!
I knew exactly who it was!!
So we ended up at Sam's with me giving Jesika the surprise of her life – she was shell shocked to see me so I got lots of hugs and tears.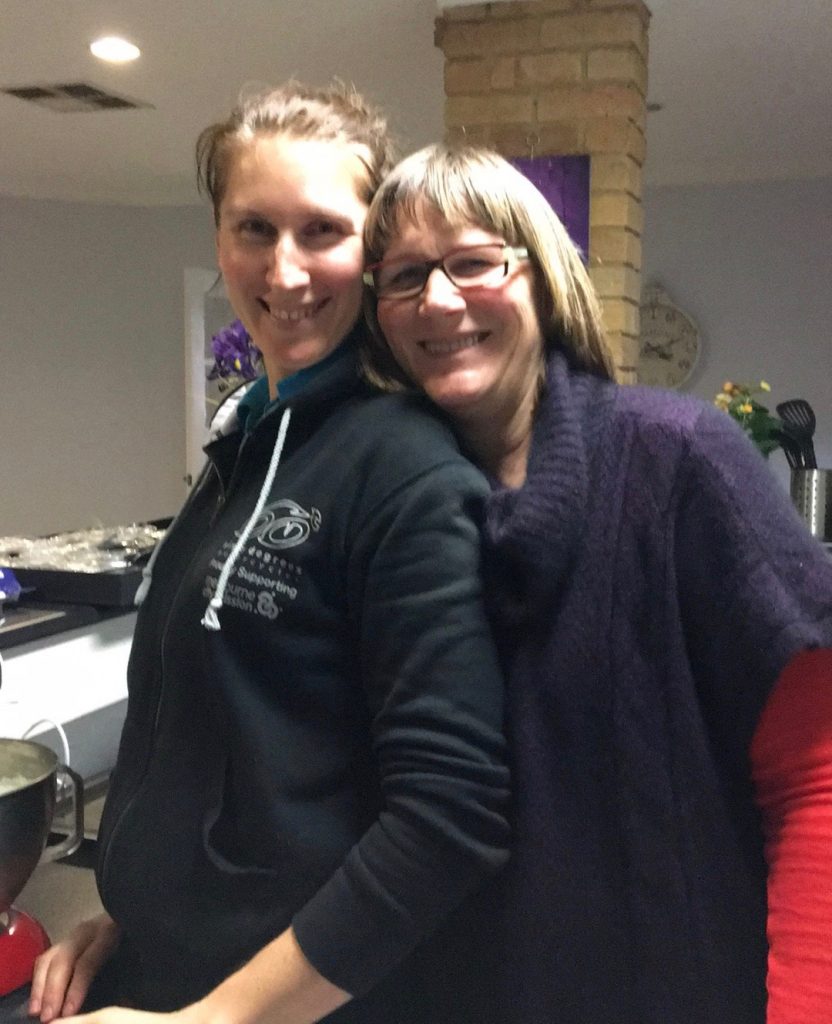 Then Sam returned with Bud so there were man hugs and tears when Ev saw him.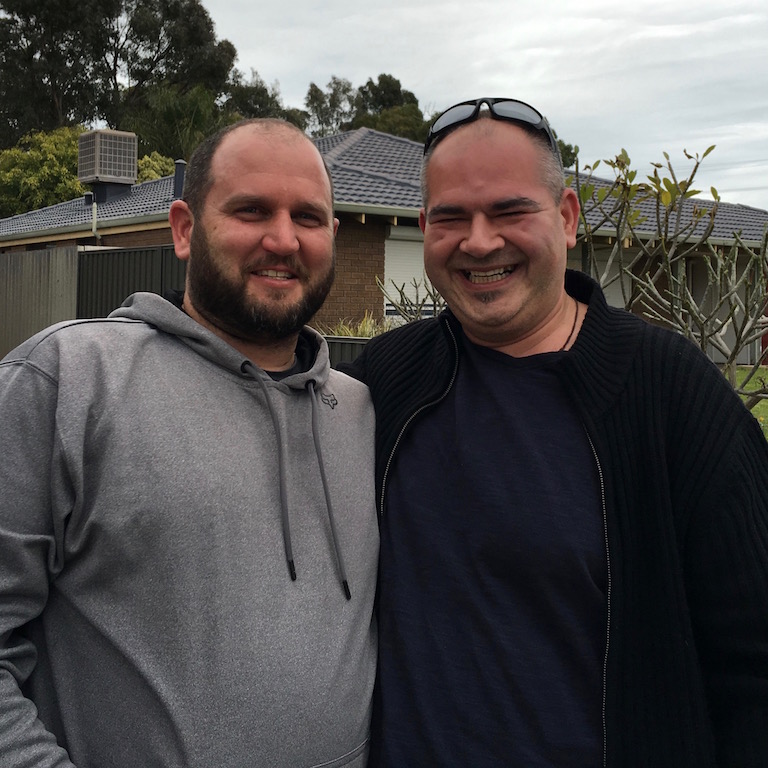 We couldn't have bettered the plan if we'd tried!!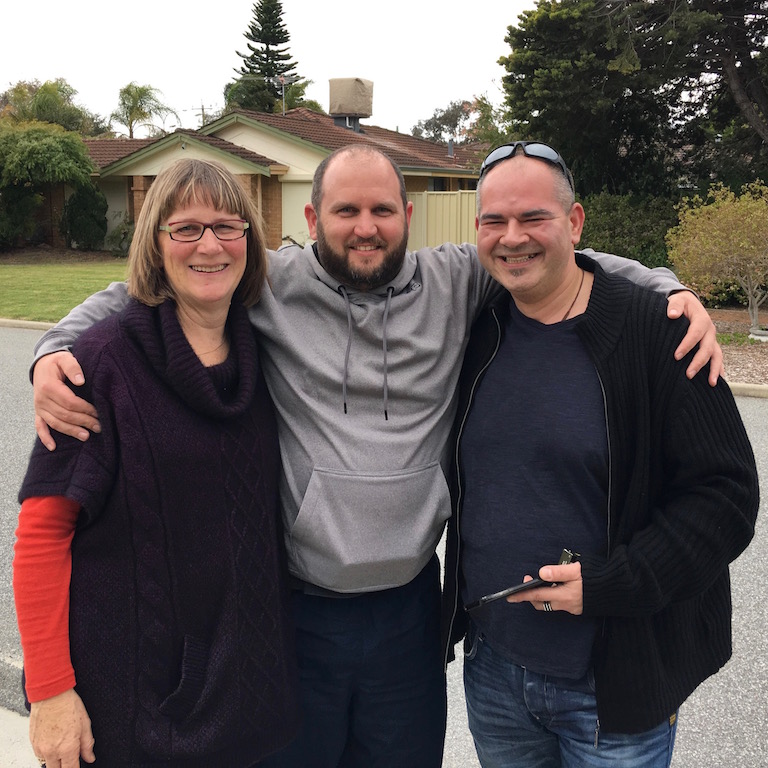 Jesika was making the birthday cake and vodka jelly shots so I helped where I could and the guys retreated to the living room with their beers to talk guy talk.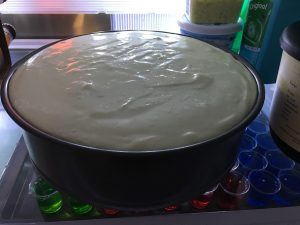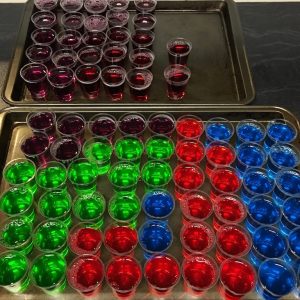 As it was Evan's actual birthday I took the opportunity to unpack and unload the excess from my bag.
He loved the tee-shirts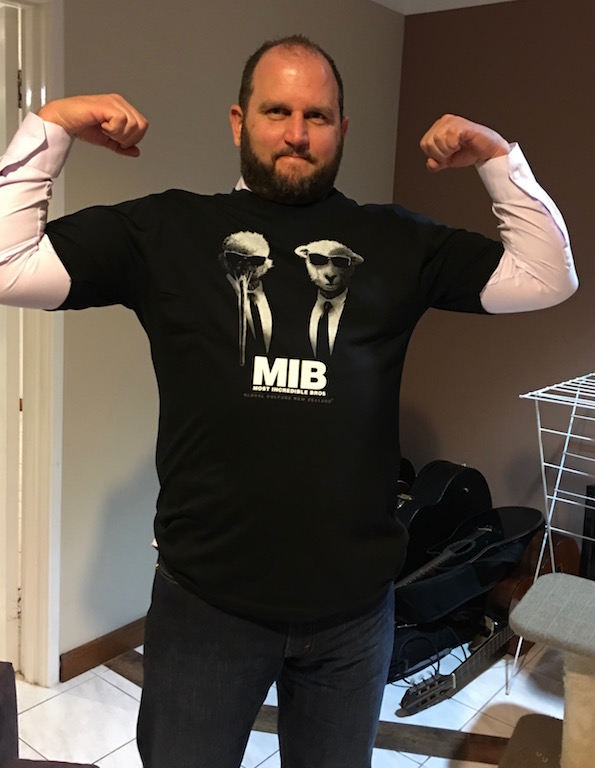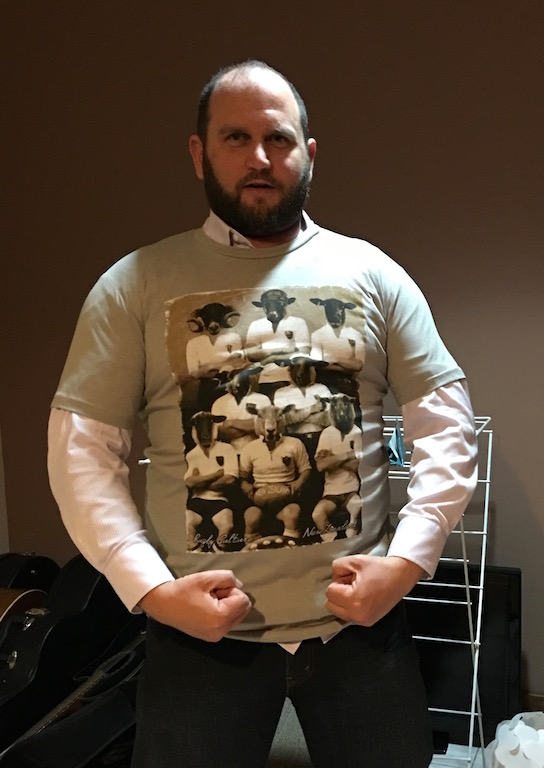 As did Jesika.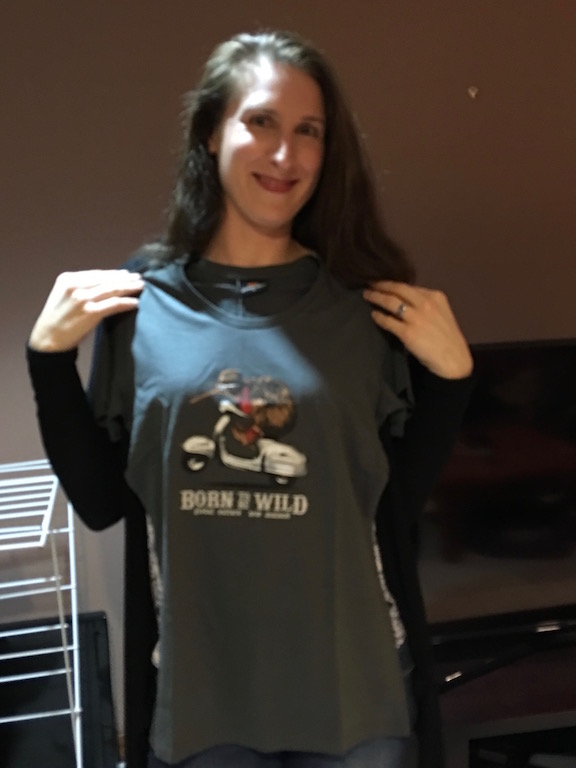 Her birthday was a week back so I had bought her over a bone carving made by our friend Fumio.
It represents & symbolises the paua, fern leaf, waves and fishhook.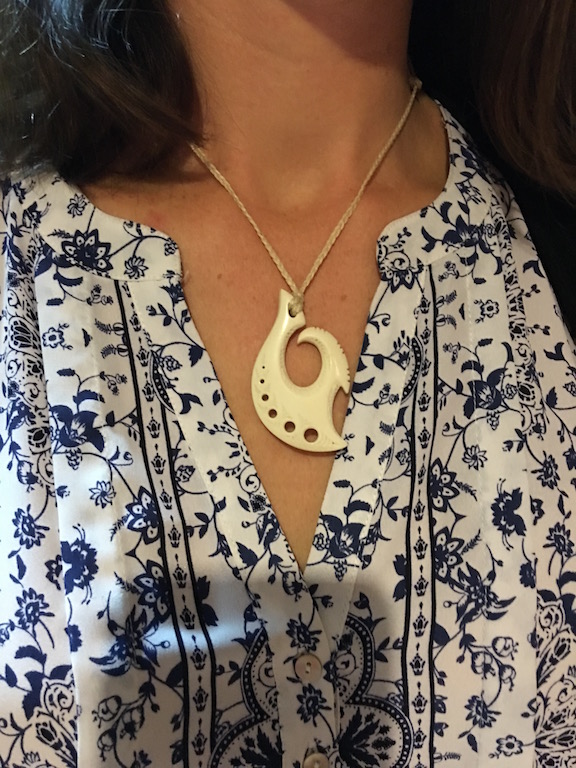 To celebrate we put on our glad rags and braved the torrential rain.
Took an Uber ride to Tony Roma's for dinner.
Happy Birthday ole fella 🙂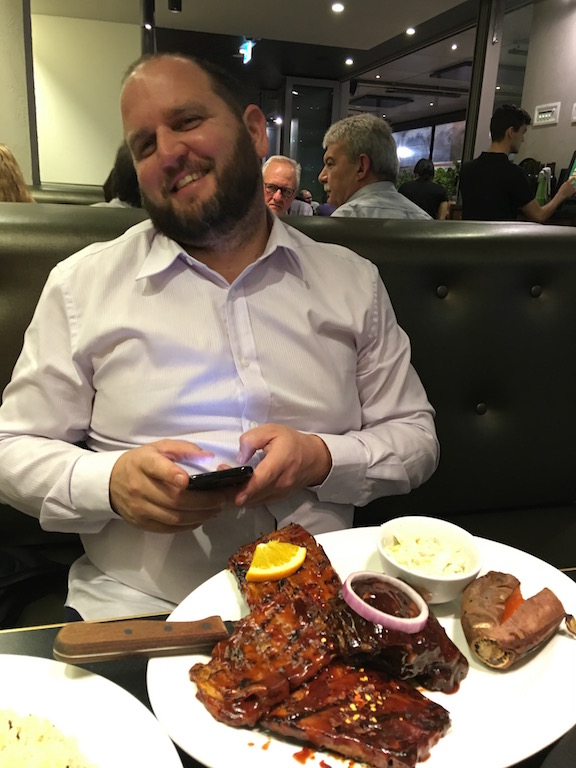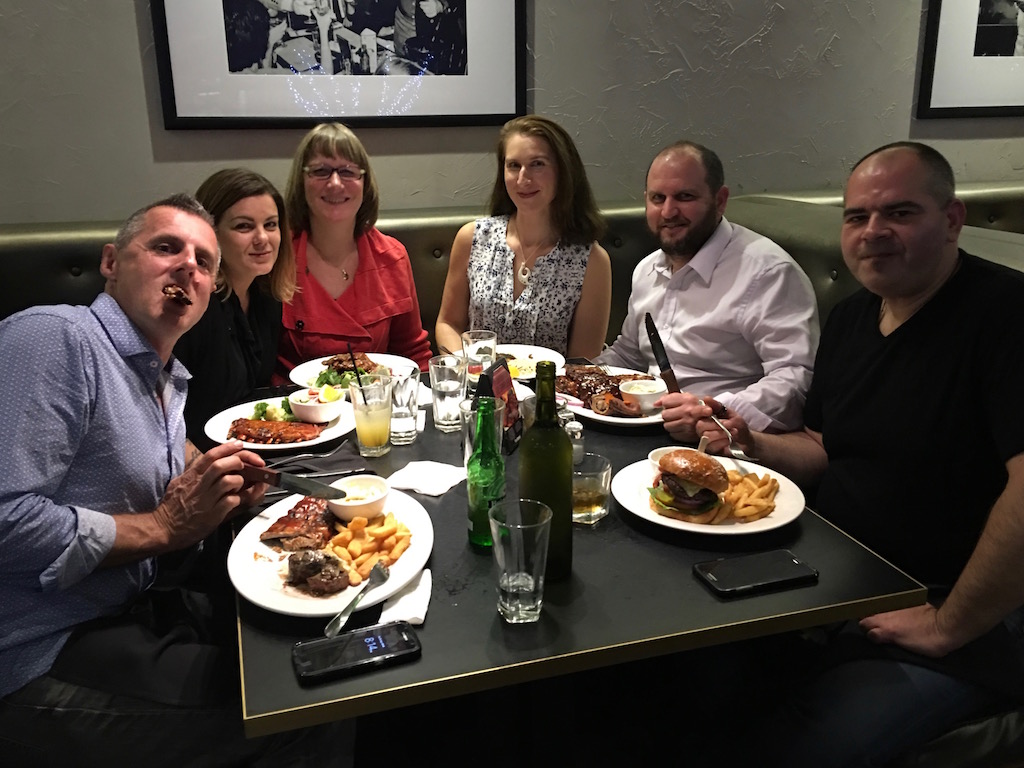 We had a great night.
Food was really good.
Our waiter was excellent, so good in fact that the guys made sure we all tipped him extra.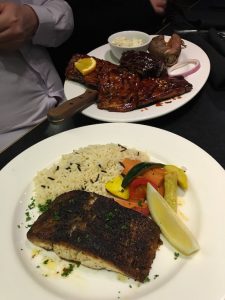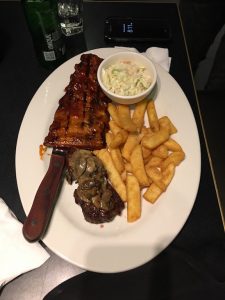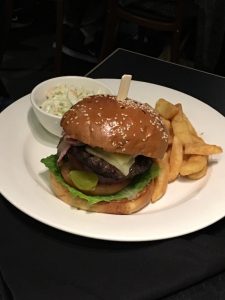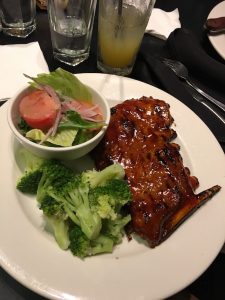 The place is a carnivores dream.
I had the chicken salad.
It was excellent.
Perfect balance of salad and not too much meat.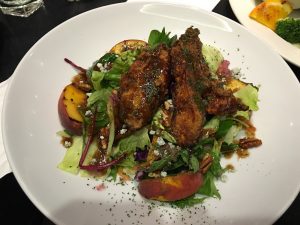 The desserts were not only very good, but they were very generous servings.
I danced with chance and on the young waiters recommendation ordered Tiramisu.
I am very particular with this dessert so normally do not risk it.
It didn't fail – for once it was nailed.
Sam had to sample Blair's sundae with some help from Evan's finger!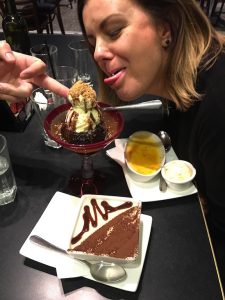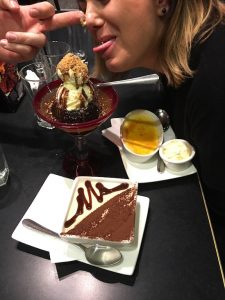 Torrential rain again as we ran to the Uber car.
Great night but we were all too tired to go clubbing so headed back home for some sleep.